Professional Sign Services & Commercial Lighting
Marion Signs & Lighting is full service Sign Company offering commercial signage, lighting and services to the North Central Florida area. Our team of experienced professionals can take you through the process of choosing a sign, to design, fabrication, and installation. To create a hassle free experience, we offer premium permitting services to make sure your sign structure is granted the appropriate documentation for the sign size, style, and location.
Decades of industry experience provides our clients with an assurance of receiving the highest standards of quality in care and performance in:
Design and Sign Engineering
Commercial Sign Manufacturing
Permit Compliance and Approval
Sign Replacement and New Installation
Lighting Products and Service
Servicing and Maintenance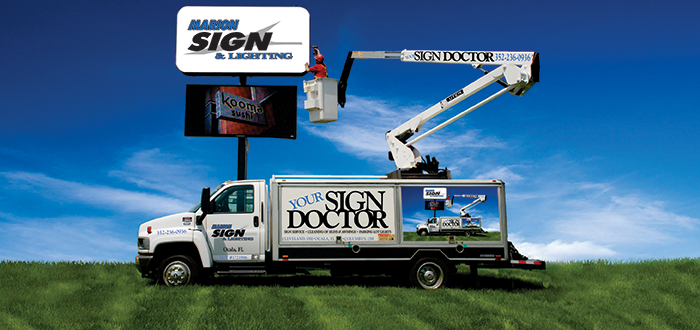 Sign Maintenance
We offer competitive pricing and you're under no obligation so you can afford to request a custom quote for your sign maintenance needs. We offer highly trained technicians and fast response times for all repair needs. Whether your sign is in need of small repairs, lamp replacements, or a complete sign renovation, Marion Signs & Lighting can handle any sign maintenance request.
Commercial Lighting
We offer a wide selection of commercial lighting for your business location. Our affordable light solutions are durable structures with optimal lighting sources. We can install and service indoor lighting, exterior lighting, light poles, and sign lamps. Contact us today for more information about our lighting products and services, or request a price quote.